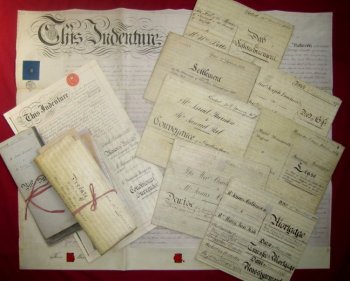 Selection of family deeds for sale to researchers
Our documents relate to people who bought, sold or leased a house or land, made a will, or entered into any kind of legal agreement from the 18th century through to the early 20th century.
In most cases the document bears the original signatures of the people involved.
These are made accessible to family history researchers through a FREE surname index of the principal parties in each document. Every name links to a brief summary and photograph of the relevant document for sale.
August 2023
The most common indentures found in FamilyChest are conveyances, mortgages, leases and sales by lease and release. Also, normally written on parchment, are grants of probate and Manorial Court records of admission and surrender. Paper documents include a wide variety of agreements, drafts and copies, but particularly noteworthy, is the Abstract of Title to a property.
For more information view our names database
or email Allan Azzaro at familychest@aol.com